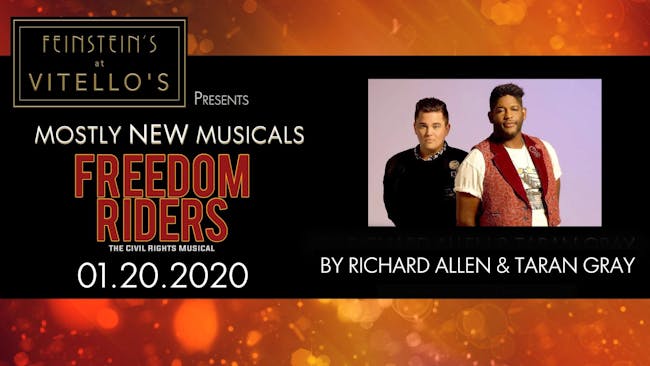 +ADDITIONAL $20 MINIMUM ON FOOD/ BEVERAGES
Feinstein's Presents: mostly NEW musicals: FREEDOM RIDERS
PLEASE NOTE, $20 MINIMUM ON FOOD OR BEVERAGES Doors: 6:30pm /Show: 8:00pm
FREEDOM RIDERS: The Civil Rights Musical tells the story of the real-life Freedom Riders who challenged the status quo of the 1960's by riding interstate buses in mixed racial groups through the South challenging local laws and customs that enforced segregation. Based on the lives of Diane Nash, Congressman John Lewis, and the other riders, Freedom Riders is a soaring portrait of American race relations and a testament to the power of nonviolent direct action in uncovering injustice. Winner of the New York Musical Festival award for Outstanding Music and the Social Relevance and Impact Award.
Richard Allen and Taran Gray are emerging activist artists who refuse to let the modern times be the epitaph for the Civil Rights Movement allowing advocacy of justice for minorities and the disenfranchised to die. They are leaders in a revival of remembrance. Without preaching or judgment, they are lifting their voices to sing until earth and heaven ring with the harmonies of unsung heroes. Richard and Taran are San Diego natives turned producers of award winning musical theater with a civil rights message who don't ever seem to take a break or rest from their mission to initiate conversation on equality and acceptance through their historically accurate musicals, FREEDOM RIDERS: The Civil Rights Musical and BAYARD: A New Musical.
The cast will feature Broadway's Deon'te Goodman (currently performing in HAMILTON) as civil rights activist John Lewis along with FREEDOM RIDERS: The Civil Rights Musical veterans Payson Lewis, Meagan Flint, Jennifer Sun Bell, Eboni Muse, Kevin Burroughs, Nathan Nonhof, and Erin Vanderhyde. This concert event will be hosted by the show's creators, Richard Allen and Taran Gray, and will feature the entire score of the musical.
--
A minimum of $20.00 is required per person while inside the showroom. Dining in the restaurant or any of our bars does not apply to the showroom minimum. Service fees apply to all tickets purchased via Eventbrite, at the door, and/or at the Box Office. Valet parking available with validation for $6.
Guests requiring accessible seating should book directly by calling 818-769-0905
Parties of 7 or more must be booked directly with the venue by calling 818-769-0905. Big group seating is not guaranteed.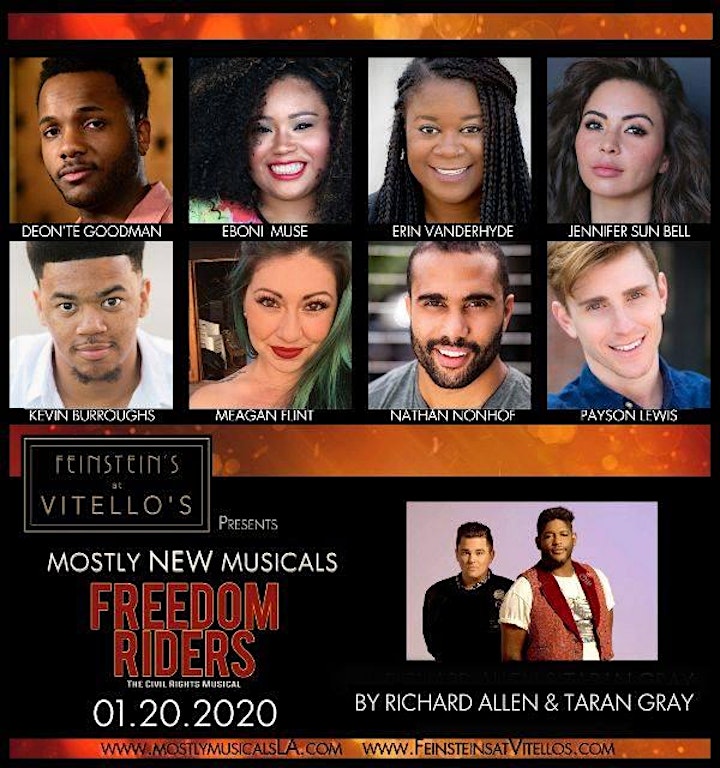 Venue Information:
Feinstein's at Vitello's
4349 Tujunga Ave
Studio City, CA, 91604